13
"The war axe is only buried
when no one knows where it lies."
In many Westerns the saying is that the "Indians dig up the war hatchet". This term was mainly influenced by the "Leather Stocking Tales" of James Fenimore Cooper. But was the digging up of an axe really common practice, or is a cliché being used that tarnishes our general view of the American Natives again here?
The "tomahawk" - the war hatchet of the American Natives
The term tomahawk was adopted into the English language in the 17th century. The word originally comes from the Algonkin language (tamahaac = axe or war hatchet). However, the first tomahawks did not have metal axe heads, as the indigenous population was not familiar with the technique of hot forging until then. Up to then, the heads of the axes were mostly made of stone or were simple wooden clubs, for example with a round carved striking ball. It was only through trade with the first settlers that the metal head, whose shape was based on a ship's axe of the Royal Navy, spread.

Tomahawk of the Oglala Lakota (late 19th century)
The pipe tomahawk - A ritual object
Often the metal heads of the axes were converted into tobacco pipes. They were then used mainly in diplomatic negotiations and as gifts. If the side on which the pipe was placed was presented, this usually meant peaceful intentions. But if the blade was shown, it was often a symbol of war.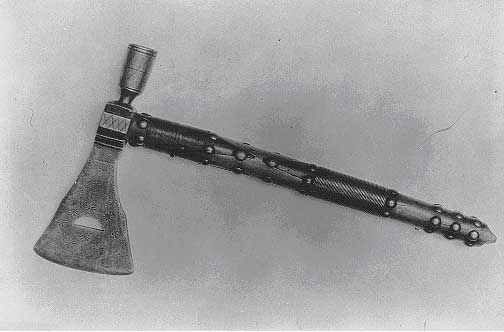 Pipe tomahawk (early 19th century)
We assume that the conclusion to the saying "dig up the war hatchet" is also drawn there. However, we have not found any evidence that the axe was "dug up" in the true sense of the word.