Contains unpaid advertising
6
"In the life of an Indian there are no bad days.
Even if the times are difficult.
Every day is good.
Because you're alive, every day is good."
A saying that made us stop and think
For our advent calendar we started to collect some sayings in advance and came across this one among others. To be honest - we found it very irritating at first and it caused an inner uneasiness.
Being able to live should be considered taken for granted in our modern times.
Unlike the United States, Germany has a well-developed healthcare system. In very few cases we have to pay medical bills ourselves because we are insured.
In America, however, the situation is different. It is not uncommon that longer hospital stays can mean financial bankruptcy. This is something that we find very difficult to imagine. Where we do not hesitate to call an ambulance, such a decision can cost over $2,200 in the States, and often has to be financed out of one' s own pocket.
However, the slogan is also aimed specifically at the American Natives. Here the situation is a little more tricky - to put it mildly. Most Natives are in a quandary.
Although there are social benefits and some health insurance in the reservations, these are cancelled when the Natives leave the territories. This is also often the case, because the reserves offer hardly any jobs that can provide a livelihood.
The conditions are sometimes so bad that individual Natives have to weigh up the pros and cons: Either they buy gas for the winter or medicines. Conditions that one would not actually expect in the USA.
We want to help and call for donations!
Today is St. Nicholas Day and many may be pleased about own gifts, even if it is just a small one. Others, however, do not have this fortune.
In cooperation with Dietmar Kuegler
of Verlag für Amerikanistik and Kerstin Groeper
of TraumFänger Verlag, we want to draw attention to the
possibility to help!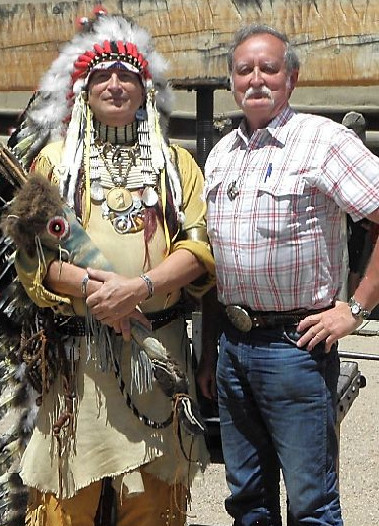 Dietmar Kuegler (right) - Verlag für Amerikanistik
Dietmar Kuegler is the founder and owner of the publishing house Verlag für Amerikanistik. He has been publishing for over 30 years and is a proven expert on America. Since 1974 he has written over 50 books.
"Verlag für Amerikanistik is the only specialist publisher for Native American and American history in the German-speaking region. Since its founding in late 1983, we have published nearly 200 books with scholarly and popular science content, including numerous dissertations and master's theses".
– Dietmar Kuegler
Kerstin Groeper - TraumFänger Verlag
The TraumFänger Verlag offers books on the subject of Native American Studies. In addition to historical novels, contemporary literature, ethno-thrillers and children's books are also published.
"Our focus is on the Sioux / Lakota, Cheyenne, Blackfeet, Blackfoot, Menominee, Ojibwe, Navajo, Hopi and Apache peoples.

Important to us are authors who really have contact with "Indians" and can describe this world authentically".
– Kerstin Groeper
Support of social projects in Pine Ridge by One Spirit Deutschland e.V.

The Pine Ridge Reservation is largely inhabited by Oglala Lakota and is located in southwestern South Dakota on the border to Nebraska.
Originally the area was part of the Great Sioux Reservation, which had an area of 240,000km². In 1876 the U.S. government violated the existing treaty and opened 31,000km² of the area for private interests.
From 1911 the reservation was further reduced by selling the land to whites under the Dawes Act.
Today the reserve has an area of 11.000km². According to the Arizona Daily Star, the unemployment rate in 2002 was about 85%. In 2013, the U.S. Department of the Interior calculated an unemployment rate of approximately 64% in the American Indian Population and Labor Force Report. Drug abuse, alcohol consumption and social hardship are widespread.
The association One Spirit Deutschland e.V. has made it its mission to improve the living conditions of the Lakota since its foundation in 2014. Together with the tribal people, programs have been developed to improve the situation of the population in the long term.
The logo of One Spirit Deutschland e.V.
As a non-profit organization, One Spirit offers youth programs from time to time, in which young people can again increasingly engage with the Lakota culture. "Helping people to help themselves" is intended to help people to achieve a certain income. So for example One Spirit helps artists with the sale of jewelry and other works.
A list of the current social projects was created by TraumFänger Verlag. Mrs. Groeper is also a member of One Spirit.
Please help today!
Even small amounts can work great wonders.
The Lakota Winter Project of the Society for Threatened Peoples
(Gesellschaft für bedrohte Völker GfbV)
About Kerstin Groeper from TraumFänger Verlag, we would like to introduce a special project at this point. The Lakota Winter Project, which is supported by the Förderverein für bedrohte Völker e.V. (GfbV), supports families in the Pine Ridge Reservation with the procurement of heating material in winter.
Many people in the population live far below the poverty line and cannot afford the cost of wood or propane gas. The consequence is that especially old people die of hypothermia due to temperatures as low as -4°F. The special problem: The company that supplies the gas only appears from an order value of meanwhile $200. Money that many families cannot raise.
The TraumFänger Verlag also provides further information about the project.
Help now and save lives!
The association assures that every donation reaches the people in need at 100%. The donation is used to purchase heating material and helps those who really need it.
Any amount can make a difference!
Contact person: Andrea Cox
https://www.lakota-indianer.com/projekte/winterprojekt
Help for Martin Knife Chief - An initiative of the Verlag für Amerikanistik
Dietmar Kuegler from Verlag für Amerikanistik has been calling for a donation for Martin Knife Chief for some time. The Lakota, who has been fighting cancer since 2015, has few resources of his own to fight the disease. Although medical care in the USA is very advanced, it is hardly affordable for Martin as he is no longer working regularly due to the disease.
Through a donation via PayPal, Martin will benefit from the financial support to continue the fight against cancer.
In a call to the general public, Kuegler asks for help.

My name is Dietmar Kuegler.
I am editor of the MAGAZIN FÜR AMERIKANISTIK and author of many books on American history.
Today I am asking to help a friend.
Help for MARTIN KNIFE CHIEF.
The Lakota MARTIN KNIFE CHIEF has been fighting an aggressive cancer disease since 2015. The therapies rob him of his strength and they are very expensive. He has no insurance. Martin can no longer work regularly because of his illness. He makes traditional handicrafts at home and occasionally goes to schools and talks about Indian culture. He is too proud to go begging and is very grateful for the help he has received from Germany so far. It also represents a strong moral force. Since many people who have helped him in recent years feel insecure about sending cash in envelopes, Martin has given me a PAYPAL address. PAYPAL is an easy and safe way to send money to the USA. You don't have to exchange Euros for Dollars at the bank. The amount is converted automatically. Just go to the website of PAYPAL and use this email address:
gurnzey@yahoo.com
Please specify as reason for payment: "Donation for cancer treatment".
Don't be surprised that another name appears in the recipient's address; it is the maiden name of his wife. Every small donation helps. It goes directly to the person who needs the help. Some people who have traveled with me on my guided tours of America have gotten to know Martin personally and know what a great person he is.
Thank you very much!
Dietmar Kuegler
Verlag für Amerikanistik

Dietmar Kuegler not only offers guided trips to the USA in addition to his publishing work, but also holds seminars and online courses at universities on the topic of American Studies. His magazine appears four times a year and is filled with profound knowledge of American history.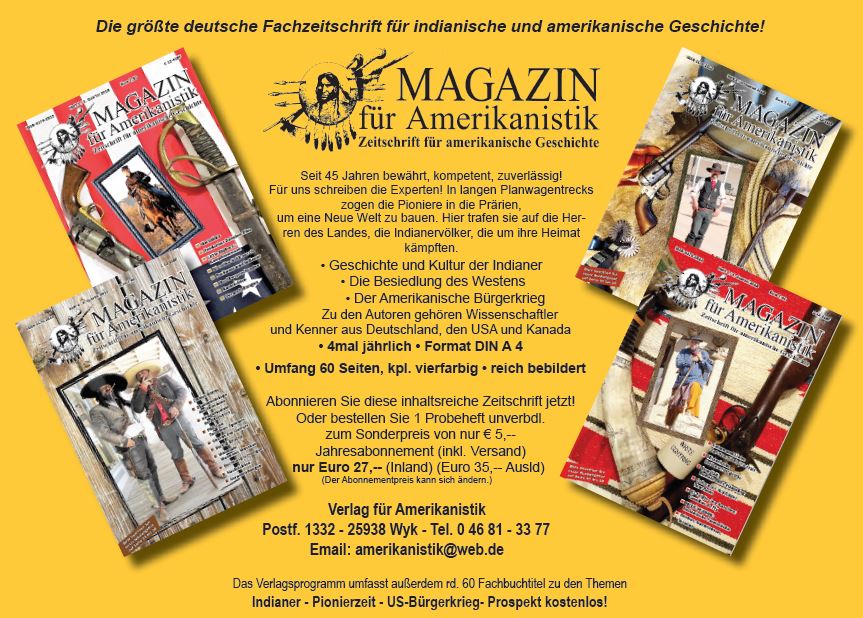 advertisement
Whichever path is taken - it is the right one!
It is up to you to decide which way you want to donate. In any case, as Two Rivers Privity we can support the presented projects at 100%. Behind each of these projects are people who give their best every day to make the world a little bit better. This also ensures that your contribution will reach the people who need it the most.
Therefore a hearty Wopila Tanka. Thanks a lot!
DISCLAIMER: Donations are made through the respective organizers of the projects. The Verlag für Amerikanistik points out the direct possibility of donating to Martin Knife Chief via his PayPal. The Two Rivers Privity does not accept donations, but only draws attention to the possibility to support the presented projects. We do not receive any money, benefits or other remuneration for the presentation of the projects. Also the presentation of the Verlag für Amerikanistik and the TraumFänger Verlag happens without any return service.