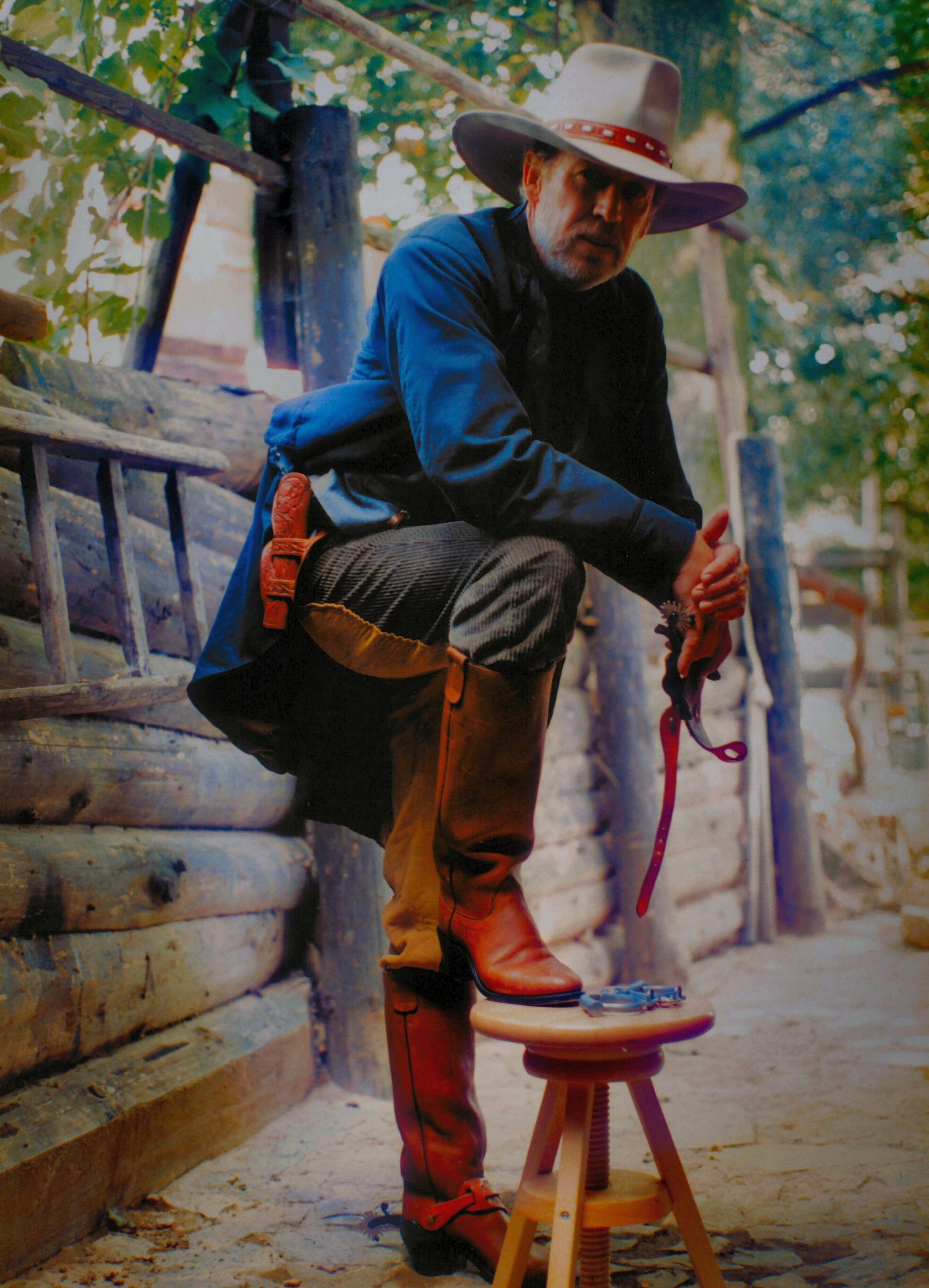 The new year 2022 was only a few days old when sad news reached us, causing misunderstanding, anger and great sadness among us.
Peter Jakob Klein, an admirable man, loving husband and beloved family man was laid to rest at the age of 73 (01.10.1948 - 29.01.2022) much too early.
Best known on the Western scene as "Marshdillion", he was not only a very well-read and knowledgeable hobbyist, but also a good friend.
The western hobby was his life
Already at the age of 13, Peter discovered his "love for America" and the "Wild West". Already at that time he established contacts with Sheriffs from Texas, Arizona, Wyoming and Utah. They thanked him by sending him original police badges. This laid the foundation for his interest and fascination with "The Real Old West". In the 70's he began to travel the USA and met countless other interesting people. Among them were world-famous "Leather Makers", protagonists of the "Living History" and Western hobby scene and of course real cowboys, just to name a few.
He kept in touch with his friends until the very end.
Journalist with heart and soul
Peter worked as a journalist for the German WDR and wrote there, among other things, about his travels in the USA in the 80s, 90s and 2000s. He wrote many authentic reports for the Western scene, for example on the topic "Geronimos Gunrig" - "Born Free" in the magazine "Visier", issue 9/2012! Already at that time, we as Two Rivers Privity had the honor to work together with Peter and supplied photos for this article, besides more.
For many years Peter was also associated with the reconstructed western town "Fort Lubbock". He regularly documented the development of the town in the Kölner Stadtanzeiger (Cologne City Gazette) and of course actively pursued "Living History" there.
Farewell to a good friend
With Peter, we lose a true authentician with invaluable knowledge and a love of the hobby that very few share these days. With much joy and enthusiasm, he most recently wrote several reports here in the Beaver Creek Pioneer and did our community a great service. In his article "Let's Talk About Hats - About a cowboy's sanctuary", he wrote about the cowboy hat and what an essential role the headgear played for cowhands of that time and still does today.
He was full of beans and still had many ideas that he wanted to implement together with us. A visit to our beautiful Beaver Creek Valley was also planned again on his part, since his last trip to us was quite some time ago. We were therefore very much looking forward to seeing Peter again.
The fact that Peter passed away, this finality with which we now have to live, is very moving, makes us unspeakably sad and we are sincerely sorry.
Prior to his surgery, Peter was working on another report for the Beaver Creek Pioneer. "Let's Talk About Hats - Volume 2" will be about the restoration of an old "Movie-Town" hat. We would like to take this opportunity to thank Mrs. Klein for agreeing to publish Peter's last article. We hereby wish to honor his work and firmly believe that this would have been in his best interest as well.
It is not easy for us to find the right words. We continue to carry Peter in our hearts and would like to give him a permanent place here - among like-minded people and friends.
Rest in Peace old friend. We will always remember you!
With deep sympathy
Werner Schmidt alias Chet McCay
Regine Meith alias Gill McCay
Sebastian Schmidt alias Colton White
Wolfgang Oidtmann