Artful leatherwork just like from the days of the Wild West
A spotlight on the leather maker Wolfgang Oidtmann
Reading time: approx. 6 minutes.
Sunday, December 05, 2021
The first time I saw an image of "Geronimo's Gun Rig" was in 1998. A year earlier, "TIME LIFE" had published the fantastic documentary "Defiant Chiefs", an appreciation of Native Americans and their chiefs. Particularly highlighted in this report was the Apache war chief "Geronimo" and his revolver holster for a 7 ½" bbl Colt, but with a short-barreled weapon. The picture further shows the corresponding Gun Belt, and his Bowie Knife with matching scabbard.
By 2009, I had completed my own research, had the silver fittings made, and designed the cuts for "MY version of the Geronimo set" ... But that's another story; enjoy the photo!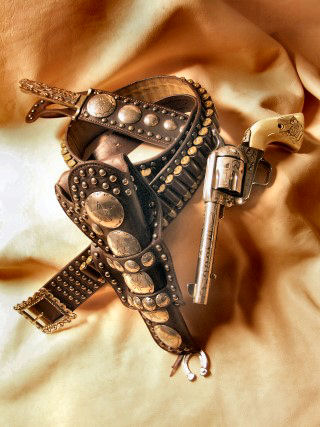 Geronimo Gunrig
Cowboy Accessories – then and now
The book"Packing Iron" (Western holster), by Richard Rattenbury, is the "Leather Bible" for all who feel connected to the "Old West" . However, nothing is mentioned in this book about what it was like in the Old West saddleries during the hay days of the cattle drives:
How did the saddler and his customers communicate? What did the cowpuncher have to do to get the desired saddlery products?
Joe Gish told me. The old-timer, who passed away in 2011 and whose sole purpose in life was the Old West, lived in his living room museum in Fredericksburg, TX until his death and received Ol' West Buffs from all over the world!
The "old west cowboy" today is called reenactor or hobbyist
The saddleries primarily focused on saddles and horse harnesses, Joe told me. As other services, of course, they also made holsters, spur straps, chaps and all the rest of the "Cowboy Accessories".
So if a Drover had the money and the time to 'upgrade' before the cattle trek, then first of all communication was required.
The saddlers had as good as nothing in stock.
In their store they had small things, such as cuffs, quirts or strap goods, sometimes possibly for sale unclaimed contract work, because the "Maker" always worked off current orders!

As it was then, it is no different nowadays:
"I love it when a die-hard Western Reenactor shows up in my Düsseldorf store and discusses with me his ideas of e.g. a new holster! In his head he has pictures from my Old West Outfitter online catalog or from some other non-fiction books with him and then tells me exactly which extras he would like to see realized!
From the pattern to the finished product: In his workshop, Wolfgang Oidtmann turns his customers' requirements into reality.
From universal size to custom made
Take, for example, the legendaryModel 1877 "Rio Grande" Frontier Reproduction Holster from Catalog #63 (1983-1984) of the El Paso Saddlery (EPS). This is a nice example of a finely crafted Tex-Mex holster. It was made by EPS using a contemporary cut. This means that this holster was a bit oversized when it came to its cut. This piece was offered in only ONE size at the time of the cattle treks, accordingly it accommodated quite a few revolver types from various manufacturers, Joe Gish explained to me.
So it was not basically designed for a COLT SAA Model 1873 or a REMINGTON Model 1875. It was to fit as many revolvers as possible. That meant less work for the saddler to produce, because there was really only one size that fit all!
From catalog to custom adaptation: the creation of a COLT SAA Model 1873 holster based on the El Paso Saddlery catalog.
Of course, the EPS built this holster in the 1980s to fit all sorts of revolvers individually. However, the large, deep cut was maintained, as a reminiscence of the "Good Ol' Days".
One of my customers liked this holster, however, he preferred a slightly less large cut.
And then I was again allowed to feel like a Old West Saddler .
A new pattern had to be made and the stamping should correspond to the time around 1875. However, he was particularly concerned that there should be no basket-weave pattern (as on the EPS original on the main loop), because that was too "modern" for my cowboy.
Furthermore, he wanted a tight fit of the holster, exactly designed for a COLT SAA Model 1873, 5 ½" bbl!
This man could also be helped!
The Tex-Mex
My adaptation of a "Tex-Mex" holster based on a historical model. Although El Paso Saddlery offered a generously cut "Model 1877 Rio Grande" in their 1983/84 catalog, I made it a little tighter. Thus, the gun has a tighter fit and the holster looks more elegant. ©CenterFoldPics2Go
The Sullivan
A publication of the Montana Historical Society provided the idea for the gunrig in the style of saddler Joseph Sullivan. He operated his saddlery in the 1880s at Fort Benton, in Montana Territory and, until his death in 1940, supplied ranches and cowboys with his high-quality leather products. ©CenterFoldPics2Go
The Reservation
The holster bible "Packing Iron" made this rig famous. This version, made by me on customer order, is decorated with antique Mexican pesos and centavos, among other things. ©CenterFoldPics2Go
The Pat Garret
This "Pat Garrett" holster model, said to be authentic, comes with a strap suspension that has been known since the previous century as the 'FBI Cant' or 'Forward Cant'; in this, the holstered weapon points slightly forward with the handle for a better grip. ©CenterFoldPics2Go
The Hatband
A 'custom made' hat band. For decoration, the customer supplied a piece of an ancient snake skin (also available as a faux leather product these days!) ©CenterFoldPics2Go
Knifes and Spurs
Original "Horse Head Spurs" from North & Judd. With my Dove Wing Leathers; and August Buermann "O.K." reproduction Spurs with the unmistakable matching Spur Leather; plus a 'Sheffield Bowie' replica with scabbard and a hunting knife in a "cross-tribal style" sheath. ©CenterFoldPics2Go
Holster Models
No matter the revolver forge, model or era, a holster can be made for any gun. ©CenterFoldPics2Go

Good leather work takes time
Making a holster - from the pattern to cutting, punching, dyeing and sewing - takes at least half a working day. Complex stamping or braided seams mean even more time. A gun belt is in the same time pattern. Making a pair of shot gun chaps or bat wing chaps can take up to 4 full working days. Ultimately, they should match the pattern after completion, the customer should like them and of course they should fit!
Chaps 'At Its Best' - Based on the Gish collection ©OIDTMANN

Old West Outfitter: Many years of experience guarantee quality
Meanwhile I am 74 years old, I have learned the saddlery craftsmanship - in addition to my educated profession as a decorator - with a Düsseldorf saddler.
Over the years I was the owner of three companies with offices in Heinsberg and Düsseldorf.
For about 40 years I am - at first 'only' on the side, but now 'primarily' - active in the Old West Saddlery business and work mostly with the same old, reliable tools that my teacher left me.
Wolfgang Oidtmann crafts sophisticated leatherwork in his Düsseldorf workshop.
I also have acquired the calmness and serenity that one needs in this profession.
To deliver an acceptable end product it requires precise handwork and the time that goes with it:

"just like in the Old West!"

See You, Folks!

Zum Schluss noch ein Buch-Tipp von mir:

"Saddleries Of Montana" (Montana's Makers from Territorial Times to 1940), Lyndes, Reynolds and Sage, ISBN: 978-0-7643-5274-4, Schiffer Publishing, Ltd.
This book is on par with "Packing Iron"; it blew me away with its fantastic information and pictures. By the way, Joseph Sullivan's saddlery, in Ft. Benton, is also mentioned in this all-encompassing work. I have been offering a replica of one of his holsters in my own store for two years now.

About the author
Wolfgang Oidtmann
Wolfgang Oidtmann is a businessman from Düsseldorf, Germany. Currently he puts the focus on his leather store.
His work can be found online at his website old-west-outfitter.de.
He is considered the last German saddler who consistently handcrafts his high-end products in the tradition of the U.S. West; with a consistently high quality of leather made in Germany; for authentic replicas and many types of utilitarian leather items.
If you want to experience him 'live and in color' (besides in his store), you can always find Wolfgang at the meetings of the 'Western-Bund e.V.' or where the 'Oldtimers' of the European Western hobby give their rendezvous and at CAS events!