Reading time: approx. 9 minutes.
Saturday, January 07, 2023
The TRP Review of 2022
Another year has passed in the Valley of the Beavers. We look back on 2022 with very mixed feelings. There were times when we laughed a lot and had a good time together. But there were also some tears running down our cheeks, because we lost a few good friends this year.
They all reminded us that the time we are allowed to spend here on earth is fleeting and that it is up to us to make the most of it.
Therefore, we want to remember all the good times we had with all our friends with pleasure and once again recall the beautiful hours we had with them in 2022.
What follows is our little retrospective on the year 2022!
Shooting of the commercial for Sack's Distillery
Even before our annual spring clean-up, we came together in January because we were tackling a special project. A "moonshiner" came to Beaver Creek Valley with a special request: The filming of a commercial for a new gin creation.
Marcel Völkel from Sack's Distillery approached Robert Neuber from Panorama Videoproduktion to realize a small spot in "western style".
We have already summarized this article for you.
---
---
The annual "spring cleaning" in Beaver Creek Valley.
As always, spring 2022 was used by us to keep our Beaver Creek Valley in its beauty. As with any spring, there is initially some necessary cleanup to be done so we can all indulge in our beautiful hobby. Unfortunately, our latitudes do not experience the cold and therefore dry winters, which is why it is mainly damp during the winter months. Unfortunately, the untreated wood used in our constructions cannot withstand these conditions for long, which is why repair work is necessary for most years.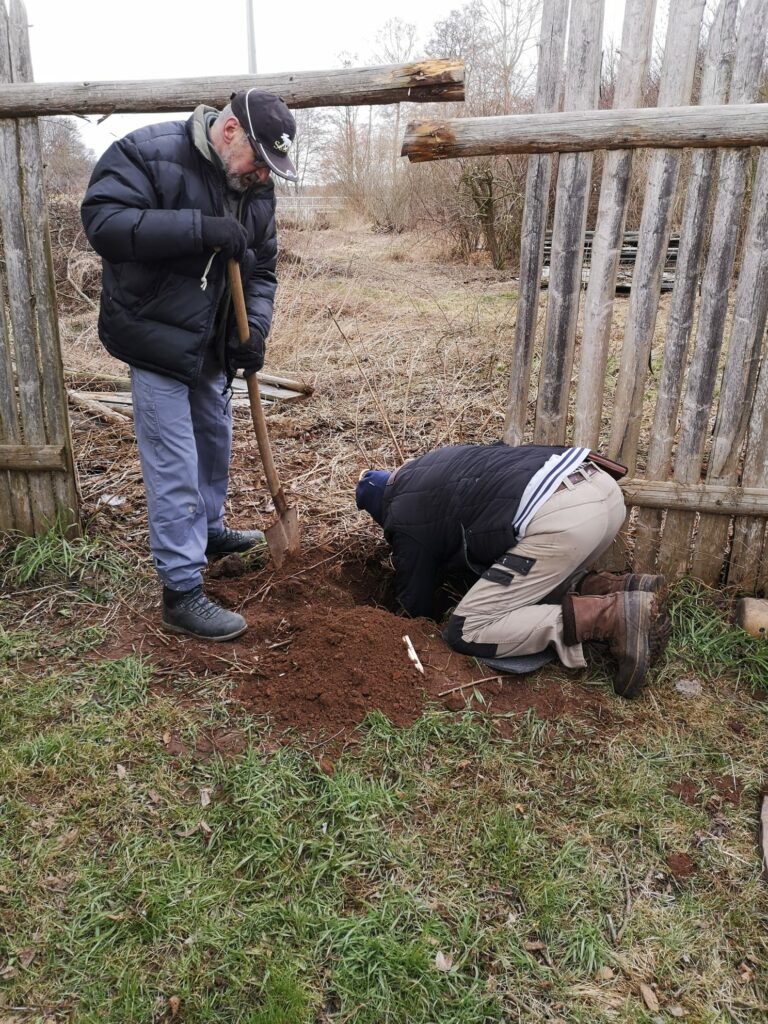 For us, the perfect opportunity to get back together and work on our collaborative "Beaver Creek Valley" project!
This year, the first meeting was already scheduled for the end of April. For this, the premises should already shine again in full splendor!
The Rendezvous of the Trappers and Indians - Kick-off 2022
Towards the end of April we rang in the hobby season on Beaver Creek Valley! The outfits were dug out of the closets, because the TRP invited to the internal meeting of the trappers and Indians, where our members were allowed to prove themselves in a small "trapper course"!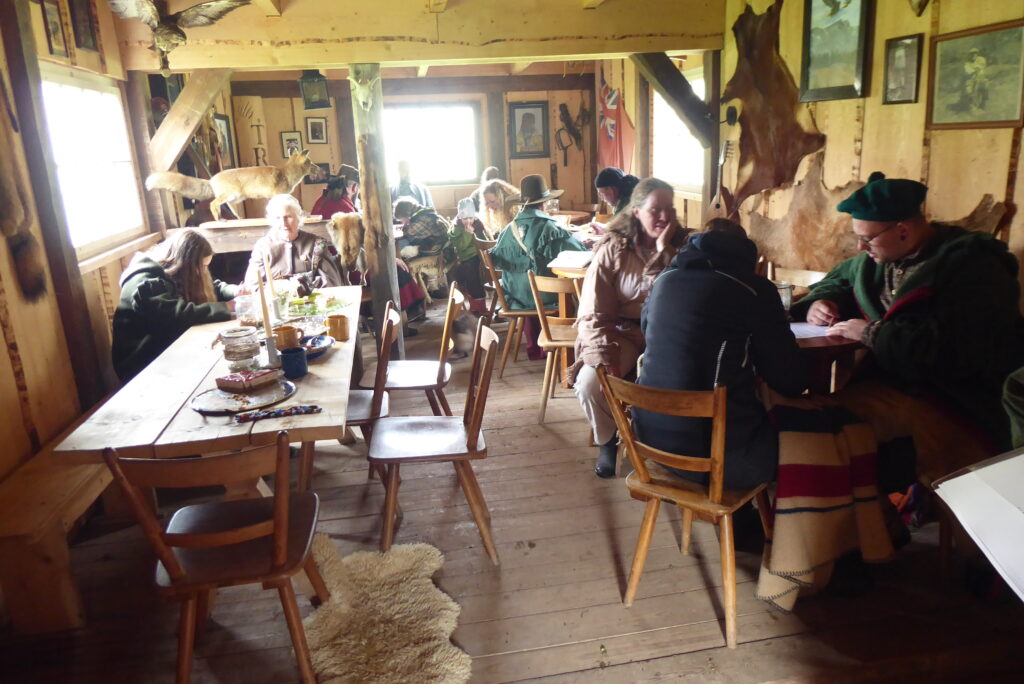 Of course, we didn't want to miss out on food and so we came up with the idea of preparing "Campfire Rabbit" - which, by the way, turned out great! Of course, we won't withhold the recipe from you and will publish it in the Beaver Creek Pioneer at some point in the future.
Small excursions with the members of TRP
But 2022 not only stood under the "American flag". Together with our members, we also met outside Beaver Creek Valley and spent hours together. The program included a visit to the outdoor museum in Perschen and a medieval market in the town of Bärnau.
The Freilandmuseum Oberpfalz is a place of preservation and teaching by telling the story of the region and the people who live and have lived there.
The lively museum offers events throughout the year about the rural life of the past.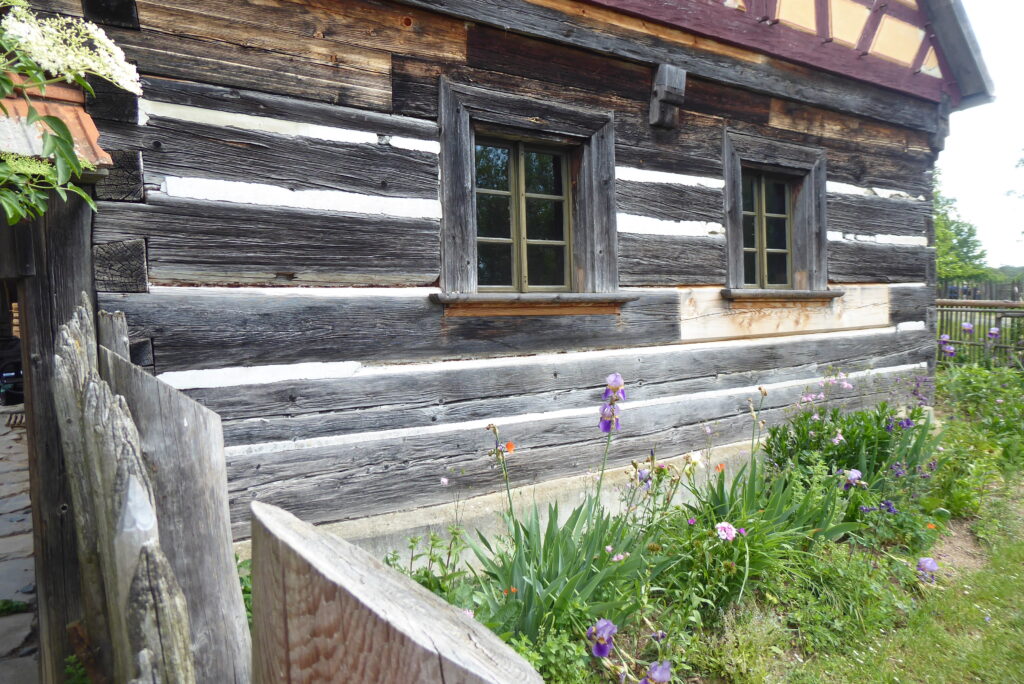 The impression that you get here, remains almost unforgettable.
We were able to learn a lot about the history of our region on this day, had a "Mordsgaudi" in addition to a rustic snack in the authentic beer garden and can recommend a visit there at any time!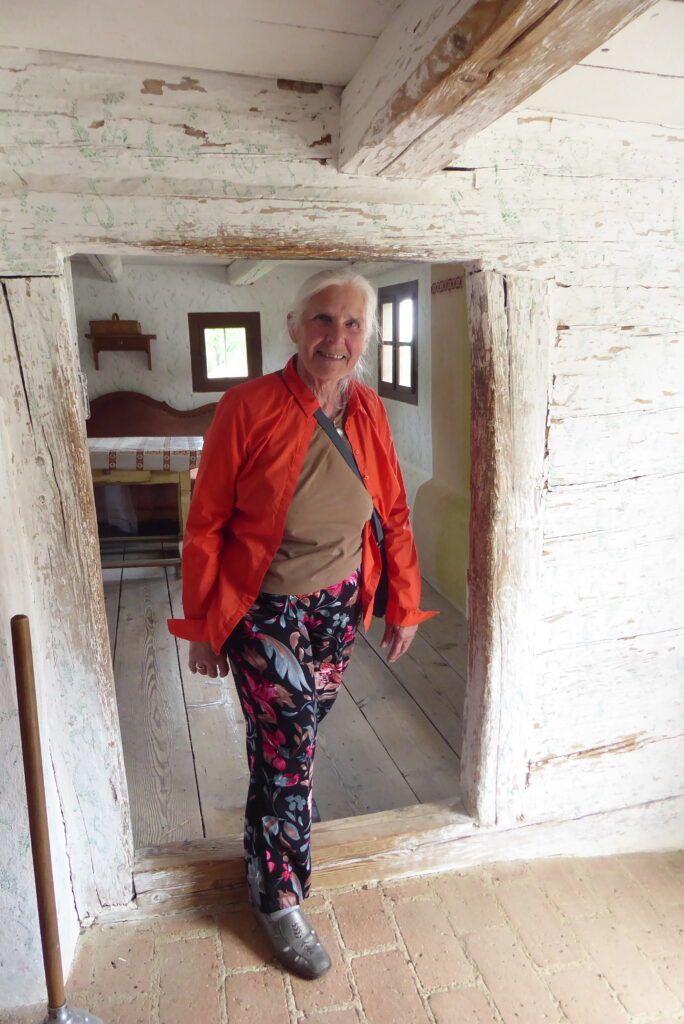 Another "non-American" highlight was our visit to the History Park Bärnau. Once a year the historical town of Bärnau in the Upper Palatinate organizes a medieval spectacle. We took this as an opportunity to learn more about another chapter of our history. Afterwards we visited the authentic historical park Bärnau.
There you can find three time windows: An early medieval village of the 8th/9th century, a motte (tower hill fort) and a stave church of the 11th century. Furthermore, there is a settlement of the High Middle Ages, segmented into a rural homestead and various townhouses from the 12th/13th century.
We were very fascinated by what has been created here, on the approximately 11 hectares of landscaped grounds. This makes the Bärnau History Park the largest medieval archaeological outdoor museum in southern Germany. You can't help but be amazed, just like in the previously described outdoor museum in the Upper Palatinate. A great day!
Cowboy-Gathering in June 2022
At the end of June, another meeting was on the agenda: The Cowboy Gathering. This small gathering was themed around the cattle herders. On a sunny summer afternoon we met and ate together as well as chatted about an era long gone by.
We had the opportunity to take some great photos and spend some quality time in Beaver Creek Valley.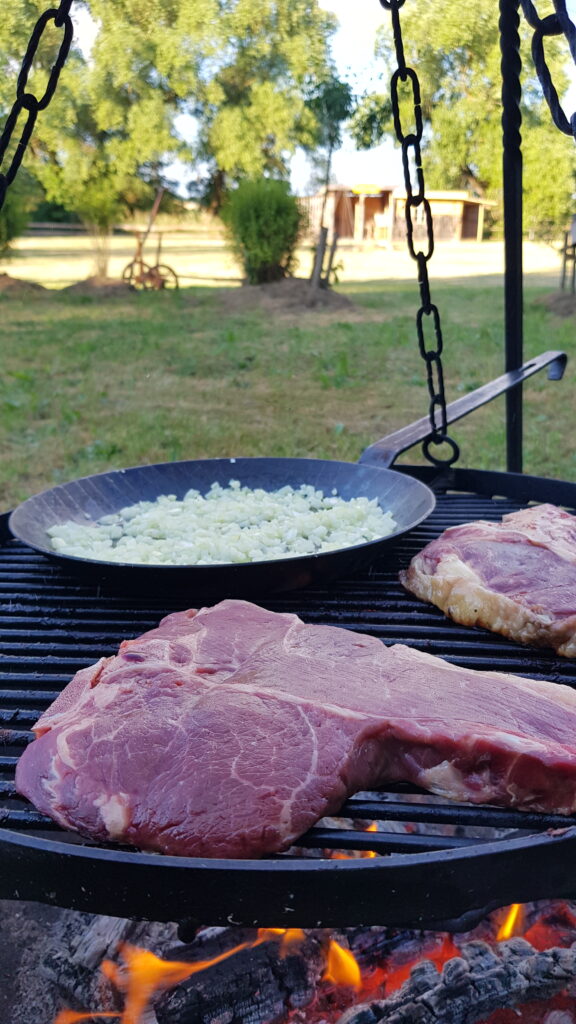 Day visit at the Bavarian Rangers
After the two-year Corona break, our friendly neighboring club "Bavarian Rangers" invited us again to their legendary country festival. As in the years before, we gladly followed the call.
In addition, Chet ran his "blanket sale" which was again gladly accepted by the guests and also by the hobbyists. Besides delicious food, cool drinks, and the bands with their "hand-made music", it was again a successful and appealing get-together of like-minded people for everyone involved. In 2023 we will be there again - promised!
Our highlight of the year 2022: The Authentic Camp
As every year so far, our Authentic Camp took place again - a topic that of course cannot be missing in the TRP Review 2022! This year with unspeakably high temperatures and the highest forest fire danger level we recorded since 2018. So this year we were only allowed to operate our campfires with an exceptional permit - all other fires had to be kept in closed stoves.
We had the opportunity to grow together even more. Where otherwise small individual fires burned, all participants now came together at a central fireplace. We cooked together, sat together and made the best of the situation!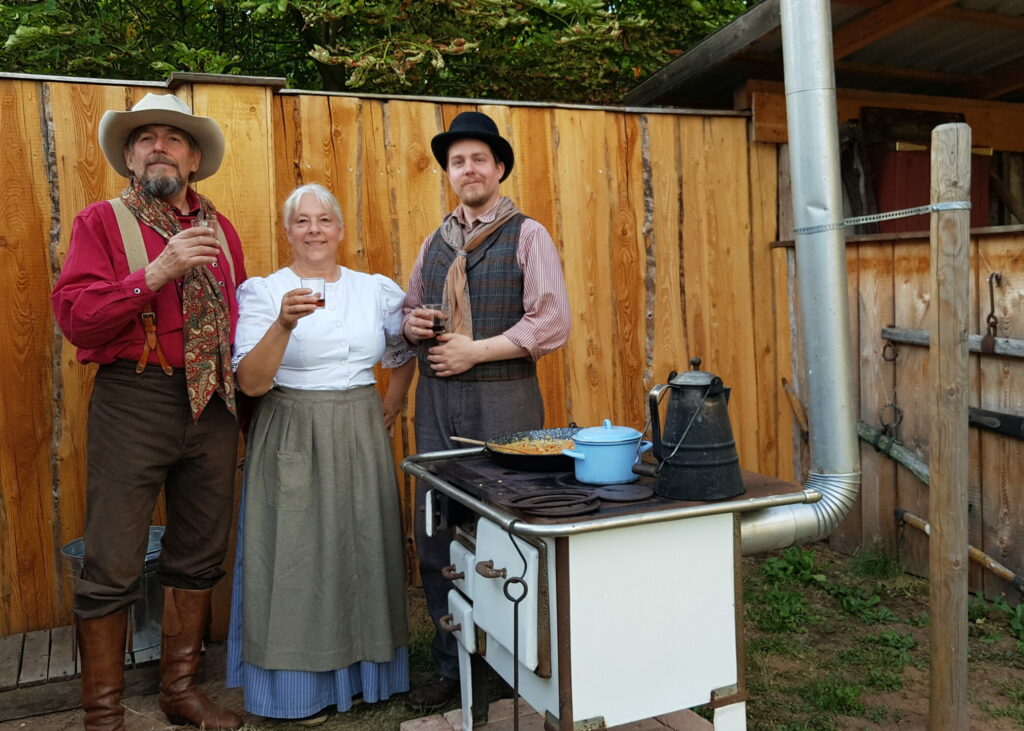 We also took the opportunity to visit the Longhorn Ranch and learned valuable knowledge, not only about Longhorns, but also about the production of whiskey and other fine spirits!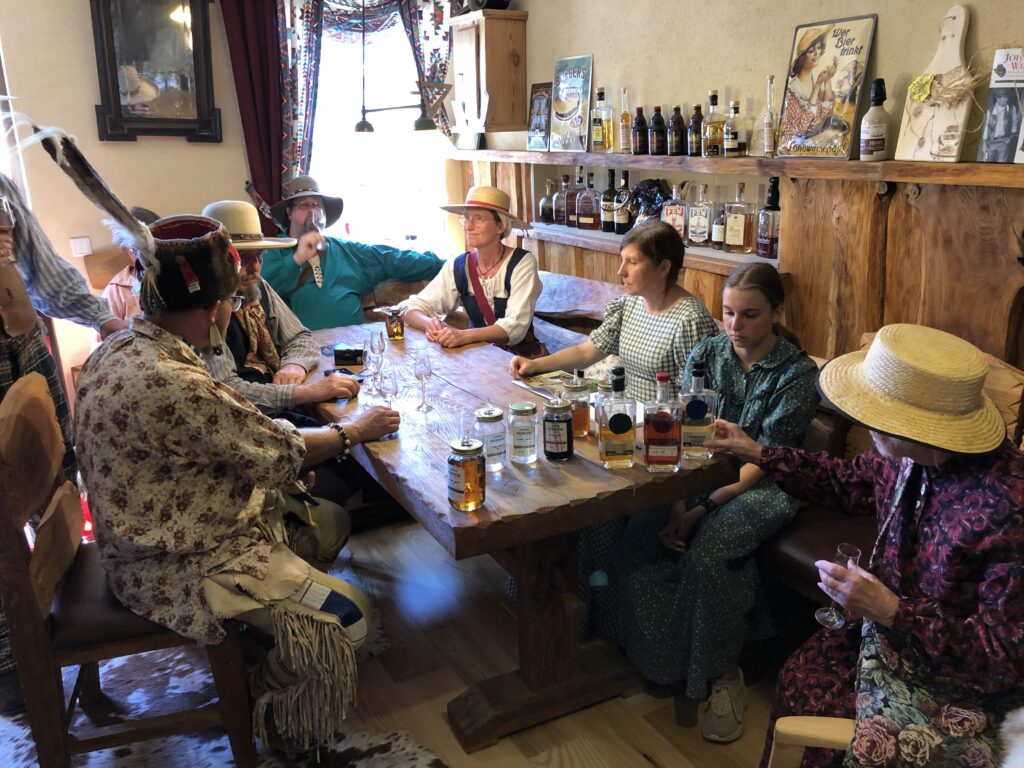 In addition, Marcel Völkel from Sack's Distillery visited us again and provided the gin for the authentic cocktail evening, which probably some will not forget so quickly!
---
A cocktail evening in the Wild West

Follow us into the cocktail evening! Together with Sack's Distillery we held an authentic cocktail evening in Western style according to the Bartender's Guide by Jerry Thomas.

read more
---
As always, there was plenty of time for great photos, authentic music and just a good time among friends!

Thanksgiving in Beaver Creek Valley
In fall 2022 we came together for the last time this year to celebrate Thanksgiving in a small group. The mood in Beaver Creek Valley was cheerful and we celebrated together with good music.
But we also noticed the obvious harbingers of winter. The warm days had passed and we rounded off the 2022 hobby season in a cozy atmosphere.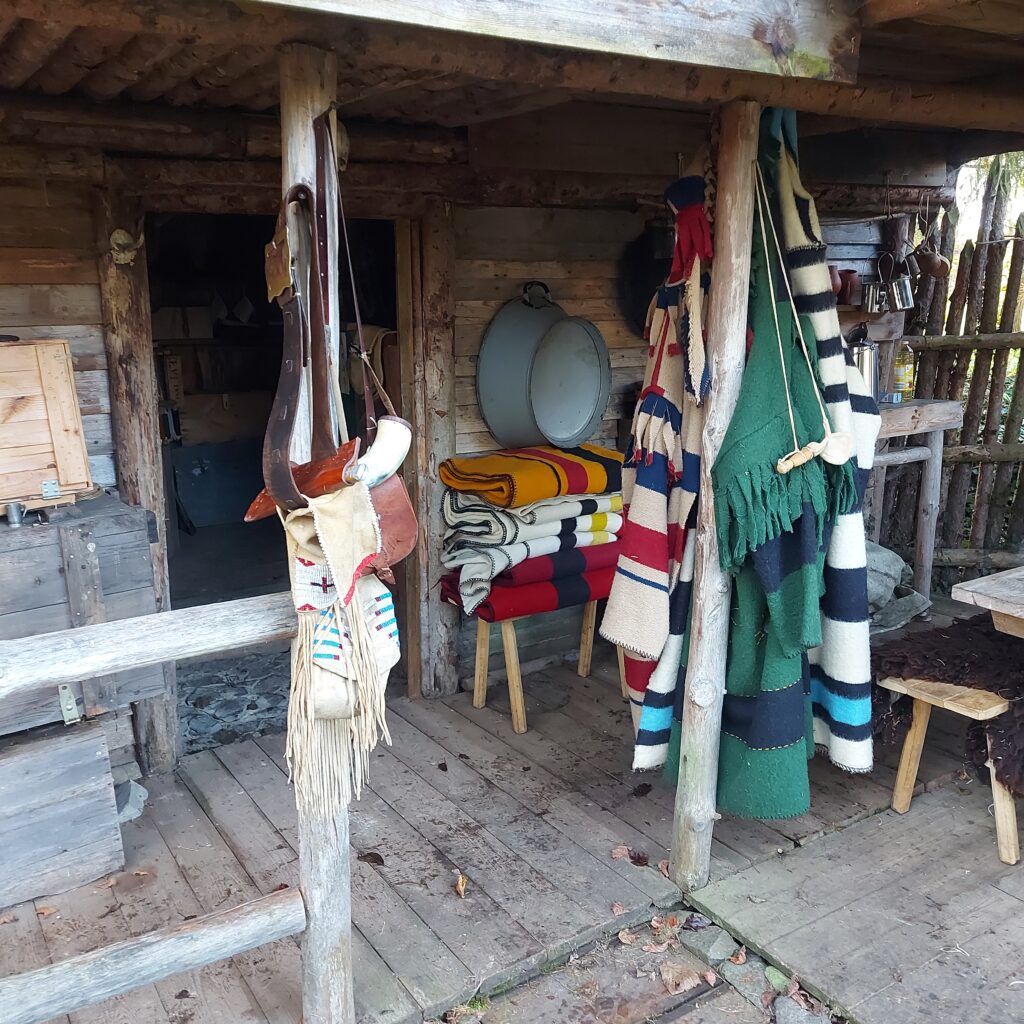 What might 2023 bring?
As we look forward to 2023, we plan to enjoy life at Beaver Creek Valley to the fullest and make every moment a special one. What exactly we're going to do is yet to be seen at this point, but let us tell you: We have a lot in store!
Together with our loyal friends of the TRP, we have the chance to look forward even in dark times, to draw new strength and thereby create new things that we want to tell each other about at campfires even years later.
For this we say thank you!
Chet McCay & Colton White – Beaver Creek Pioneer